Legal Foundations of International Monetary Stability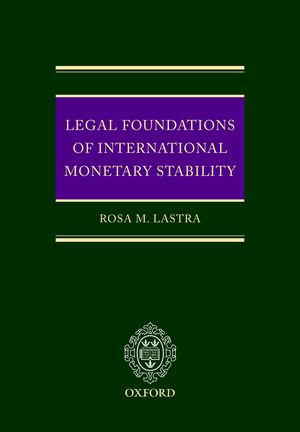 ISBN13: 9780199269341
ISBN: 0199269343
Published: June 2006
Publisher: Oxford University Press
Country of Publication: UK
Format: Hardback
Price: Out of print

Out of Print
Legal Foundations of International Monetary Stability which will appeal to both practitioners and academics, is a book on monetary law and related aspects of financial regulation providing a systematic and thorough study of how national, supra-national and international developments have dramatically changed the dynamic field of monetary law over the last two decades. Lastra looks at this in three main parts.
Beginning with the notion of monetary sovereignty, its attributes and limitations, the author goes on to analyse the concept of monetary stability and the institutional developments to promote it, in particular independent central banks and currency boards. Since a sound banking system is essential for maintaining monetary stability, the book also presents a legal study of the design of supervision and of the mechanisms available to the national authorities to confront banking crises and to maintain financial stability. The monetary law reform process in emerging economies is also examined.
The second part of the book covers European monetary law, the history of monetary integration in Europe, the institutions of Monetary Union (the European System of Central Banks and the Euro) and the functioning and challenges confronted by this new institutional arrangement, in particular with regard to the governance structure for financial regulation and supervision.
In the third part the international monetary system, its history and institutions, with emphasis on the law of the International Monetary Fund, is examined. It also presents a rethinking of the way international financial institutions manage financial crises.
This new text fills a gap in the current public international law literature for a systematic and comprehensive text on the international monetary and financial system and is essential reading for academics and practitioners in the field of monetary law.
Describes the legal framework promoting, and policy implications of, monetary and financial stability
Systematic treatment of national, European and international developments in monetary and financial law with emphasis on public law aspects
Presents the framework for the prevention and resolution of financial crises, nationally and internationally
Logical and sound analysis on the range of issues currently discussed by academics and practitioners specialising in this field
Examines the foundations of international monetary law, with a detailed analysis of the law of the IMF and the Law of the European Central Bank