Complete Tort Law: Text, Cases and Materials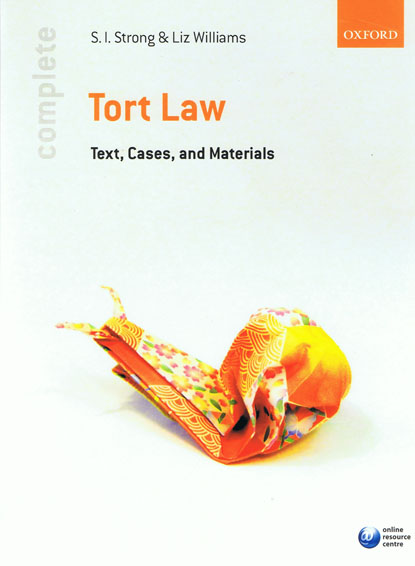 ISBN13: 9780199292240
Published: March 2008
Publisher: Oxford University Press
Country of Publication: UK
Format: Paperback
Price: Out of print

Complete Tort Law: Text, Cases, and Materials combines extracts from a wide range of primary materials with clear explanatory text and practical learning features to provide a complete resource for students of tort law.
While the text covers the key historical cases, the focus overall is on recent case examples which helps to bring the subject to life and gives it contemporary relevance for modern law students. The extracts from primary materials have been carefully selected to ensure they are long enough to give sufficient detail to illustrate the point of law being discussed, but succinct enough so as not to be overwhelming and to be accessible for students who are studying the subject for the first time. The explanatory text is written in a clear and straightforward style, which clarifies the key concepts in an interesting and engaging way and allows the student to understand the fundamental points of this important area of law.
The book contains a wealth of features such as summaries, key points, hint boxes, and questions, which provide plenty of learning support for students. Key concepts are highlighted for emphasis, cross-references and comparisons are pointed out to link the various elements of tort law, and the questions encourage students to check their understanding as they learn.
The two-colour page design allows students to identify instantly the primary material and learning features for easy navigation throughout the text, while the further reading suggestions direct the reader towards texts and articles that are easily accessible in most libraries, to provide a practical resource for further study.