War and Individual Rights: The Foundations of Just War Theory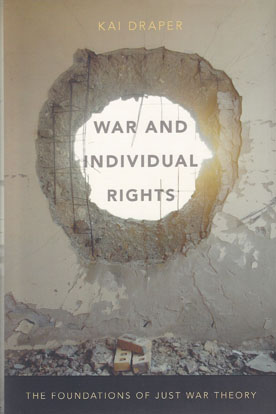 ISBN13: 9780199388899
Published: October 2015
Publisher: Oxford University Press
Country of Publication: UK
Format: Hardback
Price: £48.49

Despatched in 5 to 7 days.
Kai Draper begins his book with the assumption that individual rights exist and stand as moral obstacles to the pursuit of national no less than personal interests.
That assumption might seem to demand a pacifist rejection of war, for any sustained war effort requires military operations that predictably kill many noncombatants as "collateral damage," and presumably at least most noncombatants have a right not to be killed.
Yet Draper ends with the conclusion that sometimes recourse to war is justified. In making his argument, he relies on the insights of John Locke to develop and defend a framework of rights to serve as the foundation for a new just war theory.
Notably missing from that framework is any doctrine of double effect. Most just war theorists rely on that doctrine to justify injuring and killing innocent bystanders, but Draper argues that various prominent formulations of the doctrine are either untenable or irrelevant to the ethics of war.
Ultimately he offers a single principle for assessing whether recourse to war would be justified. He also explores in some detail the issue of how to distinguish discriminate from indiscriminate violence in war, arguing that some but not all noncombatants are liable to attack.