Trafficking of Women and Children: Article 7 of the Rome Statute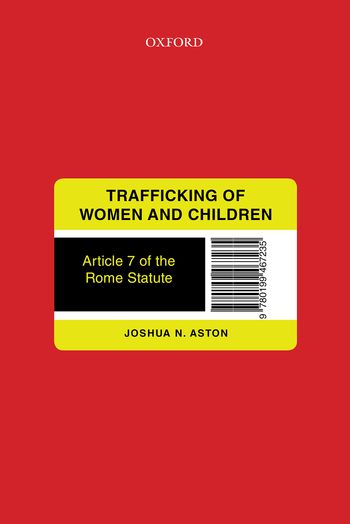 ISBN13: 9780199468171
Published: October 2016
Publisher: Oxford University Press India
Country of Publication: India
Format: Hardback
Price: £29.99

Usually despatched in 1 to 3 weeks.
This book is a detailed study on human trafficking and its severity, focusing especially on the trafficking of women and children. The main aim of this book is to identify the extent of the human trafficking trade, the law enforcement measures with a focus on Article 7 of the Rome Statute and crimes against humanity, and the feasibility of application of the International Criminal Court (ICC) in prosecuting cases of crime against humanity, with a special reference to trafficking and possible alternative measures. It also provides suggestions and recommendations for effectively dealing with human trafficking and thereby combating it.
The book also highlights the severity of human trafficking and its widespread network, within and across the borders of the countries, and the role of international law and other related laws such as international humanitarian law and human rights law to deal with the human trafficking crime, which is one of the rapidly growing transnational organized crime. An insight into the statistics of the people being trafficked provided by various international organizations gives a perspective on the effectiveness of the UN protocols, conventions, and laws that have been enforced to check the nuisance of trafficking. The research further extends to describe the enforcement mechanism of the ICC and regionalization of the international criminal justice system for effective prosecution of cases of crimes against humanity.
The book concludes with relevant and applicable suggestions and recommendations, and evolves with the most significant recommendation of proposing to set out a Convention on Prevention of Crimes against Humanity.