The Law of Freedom of Information 2nd ed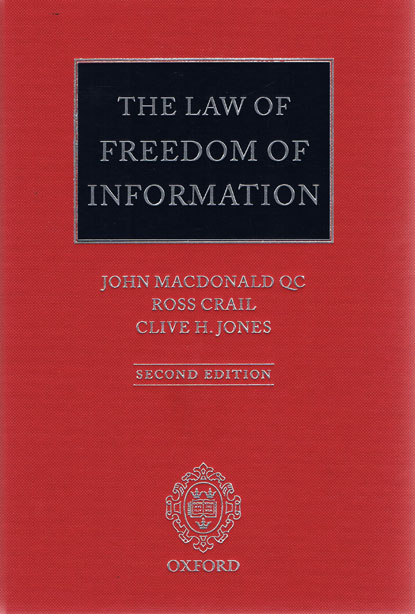 ISBN13: 9780199544356
Published: March 2009
Publisher: Oxford University Press
Country of Publication: UK
Format: Hardback
Price: Out of print

The Law of Freedom of Information is the standard textbook on this subject. The first edition was published to coincide with the coming into force of the Freedom of Information Act 2000, and its comprehensive, analytical approach provided the complete reference work for practitioners advising on the legislation:-
those working within or advising the myriad public bodies upon which the Act imposes new duties regarding the disclosure and handling of information;
those advising clients with a personal, professional or commercial interest in obtaining information from those newly obliged to provide it;
and those in the business community for whom the Act raises important concerns about the potential accessibility of commercially sensitive information.
Written by an expert team of public lawyers from New Square chambers, the book analyses and explains the Freedom of Information Act 2000, the Environmental Regulations 2004, and the Data Protection Act 1998. Sections of the book also consider freedom of information in the contexts of privacy, confidentiality and human rights, and cover statutes which deal with the related subjects of secrecy, whistle-blowing, money laundering, local government, intellectual property, and medical records.
There is a section on the problems and opportunities which the Act offers for the business community and the impact of the internet on freedom of information. The book includes separate chapters on Scotland and Wales and the European Union as well as comparative treatment of freedom of information regimes in the United States, Ireland, and other Commonwealth and European countries.
This edition includes a new introduction explaining the three different regimes which apply to public information, private information and environmental information. A new chapter will also consider the Act in relation to intellectual property. The explanation of the Act is strengthened by discussion of the decisions, which have been made in the cases to date, and by analysis and evaluation of the guidance which has been issued. The book also refers to recent cases which have been decided in other jurisdictions, which illuminate the principles which underlie the Act.
This new edition contains extensive coverage of the cases which have been decided in the Information Tribunal, and the Commissioner's published decision. In the two and half years since the Act came into force the Information Tribunal has decided 59 cases on freedom of information, 7 on the environmental information regulations and 14 on data protection. The Commissioner has published his decisions on hundreds of cases and the first cases are about to come before the High Court. The new edition of this book is an indispensable resource for those dealing with information law.
Offers a fully revised and updated edition of this well-regarded practitioner text
Written by an expert team of contributors from New Square chambers
Explains the three different regimes which apply to public information, private information and environmental information with detailed analysis of the Freedom of Information Act 2000, the Data Protection Act 1998, and the Environmental Information Regulations 2004
Covers Freedom of Information law in the UK, USA, Europe, and Commonwealth countries
Contains a new chapter on the relationship between the Freedom of Information Act 2000 and intellectual property