Security Over Receivables: An International Handbook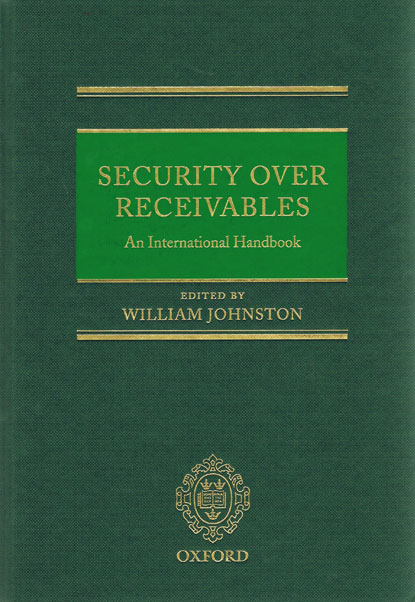 ISBN13: 9780199550456
Published: September 2008
Publisher: Oxford University Press
Country of Publication: UK
Format: Hardback
Price: £275.00

Security Over Receivables: An International Handbook is a practical guide to the key issues involved in taking security over receivables in 39 jurisdictions. Adopting a jurisdiction by jurisdiction structure, each chapter examines the key matters to consider when taking security over debts in a particular region.
Each analysis is followed by a case study, to exemplify and elucidate the central principles which arise in practice. A comparative table is also included to outline and illustrate the distinguishing aspects of taking security over debts in each country. The chapter from UNCITRAL gives a useful explanation of the position from an international law perspective. This work is a valuable preliminary reference point for practitioners advising on finance transactions, which involve security over receivables in a foreign jurisdiction.
Jurisdictions covered include: Argentina, Australia, Austria, Belgium, Brazil, Canada, Chile, China, Czech Republic, Denmark, England, Finland, France, Germany, Hong Kong, India, Indonesia, Ireland, Israel, Italy, Japan, Kuwait, Luxembourg, Mexico, Netherlands, New York, New Zealand, Poland, Russian Federation, Scotland, Singapore, South Korea, Spain, Sweden, Switzerland, Turkey, Ukraine, United Arab Emirates and Venezuela.
With contributions from well-respected lawyers from leading international firms in each jurisdiction, this book provides practitioners worldwide with considerable assistance when dealing with cross-border transactions in a number of different jurisdictions.
Valuable comparative study of the law and practice of taking first priority security over receivables in 39 jurisdictions
Analysis of each region is supported by a case study to illustrate how the key principles arise in practice
Includes a comparative table of the distinguishing features of taking security over debts in each country
Contributor team comprises lawyers from leading firms in each jurisdiction, who offer expert commentary on the key issues
International law chapter contributed by UNCITRAL