Risk and Negligence in Wills, Estates and Trusts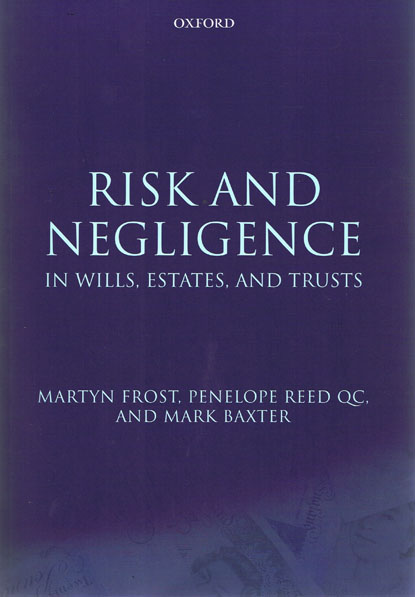 ISBN13: 9780199551606
Published: March 2009
Publisher: Oxford University Press
Country of Publication: UK
Format: Paperback
Price: Out of print

In recent years, there has been a dramatic increase in litigation against those who draft wills and trusts. There is significant potential for client dissatisfaction and for claims to arise out of:-
drafting errors;
failure to follow instructions;
delays and missed critical dates;
failure to anticipate risks and to protect the client;
errors and omissions in examining and reporting on documentation;
incorrect advice as to the law;
fraud and dishonesty; and loss of documents.
In addition, the book examines how far is it appropriate to ensure that an estate is administered properly. This book offers a detailed examination of the law relating to negligence as it applies to the preparation and administration of wills, trusts, and estates, as well as offering extensive coverage of the relevant taxation issues.
This work contains indispensable practical guidance, tailored to meet the demands of contentious solicitors and barristers involved in resolving disputes, and non-contentious solicitors and trust practitioners who want to establish best practice to prevent disputes over wills, trusts, and estates. It includes advice on best practice, explaining how to undertake this work effectively and to maintain an adequate control of risk, in the form of procedures or actions broken down into step by step processes, checklists, and example forms and controls. It contains an overview of the principles and procedure relating to these actions. It also provides appendices of forms, precedents, and checklists.
The book expands on Martyn Frost and Penelope Reed's previous book, With the Best Will in the World , (Legalese, January 2002) which was shortlisted for the 2004 High Nets' Private Client Book of the Year.
Provides a comprehensive survey of the principles, practice, and procedure involved in wills, trusts, and estates
Gives practical guidance on avoiding the pitfalls when drafting wills, and administering estates and trusts
Contains advice on how to control risk, breaking down procedures and actions into step-by-step processes, sample forms, and checklists
Suitable for both contentious and non-contentious lawyers