Delegating Rights Protection: The Rise of Bills of Rights in the Westminster World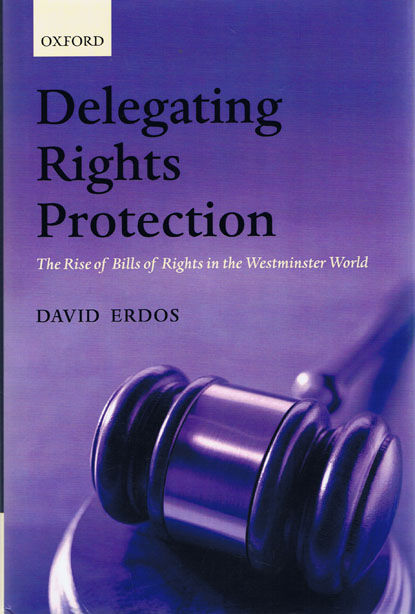 ISBN13: 9780199557769
Published: August 2010
Publisher: Oxford University Press
Country of Publication: UK
Format: Hardback
Price: £78.00

Despatched in 3 to 5 days.
Delegating Rights Protection explores bill-of-rights outcomes in four "Westminster" countries - Australia, Canada, New Zealand, and the United Kingdom - whose development exhibit an interesting combination of both commonality and difference.
Comparative analysis of some thirty-six democracies demonstrates that the historic absence of a bill of rights in Westminster countries is best explained by, firstly, the absence of a clear political transition and, secondly, their strong British constitutional heritage. Detailed chapters then explore recent and much more diversified developments.
In all the countries, postmaterialist socio-economic change has resulted in a growing emphasis on legal formalization, codified civil liberties, and social equality. Pressure for a bill of rights has therefore increased. Nevertheless, by enhancing judicial power, bills of rights conflict with the prima facie positional interests of the political elite. Given this, change in this area has also required a political trigger which provides an immediate rationale for change. Alongside social forces, the nature of this trigger determines the strength and substance of the bill of rights enacted.
The statutory Canadian Bill of Rights Act (1960), New Zealand Bill of Rights Act (1990), and the Human Rights Act (UK) (1998) were prompted politically by a relatively weak and backward-looking 'aversive' reaction against perceived abuses of power under the previous administration. Meanwhile, the fully constitutional Canadian Charter (1982) had its political origins in a stronger, more self-interested and prospective need to find a new unifying institution to counter the destabilizing, centripetal power of the Québécois nationalist movement.
Finally, the absence of any relevant political trigger explains the failure of national bill of rights initiatives in Australia. The conclusionary section of the book argues that this Postmaterialist Trigger Thesis (PTT) explanation of change can also explain the origins of bills of rights in other internally stable, advanced democracies, notably the Israeli Basic Laws on human rights (1992).