Private Antitrust Litigation in the EU: Comparative Analysis 2nd ed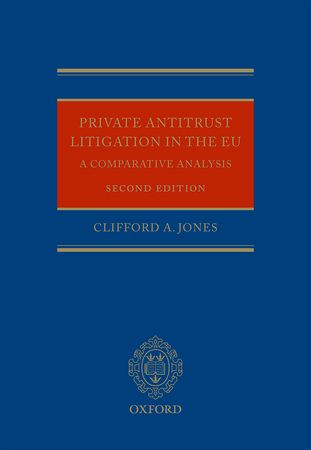 ISBN13: 9780199560592
Publisher: Oxford University Press
Country of Publication: UK
Format: Hardback
Price: Publication Abandoned

At a time when there is considerable development of antitrust litigation in the European Union, and the legal framework is constantly evolving, this book provides a comprehensive exploration of the legal basis for private antitrust enforcement, drawing comparisons within the European Union (EU) and between EU law and United States (US) law.
In light of the important recent evolution in this area of law, this is a timely and significantly revised new edition of an authoritative text. It offers a detailed comparative analysis of jurisdictions across the EU and their treatment of private antitrust enforcement, and positions the private enforcement of European Union (EU) competition law in the broader context of effectiveness of Union law. It also offers a full and clear introduction to all the key issues of law and practice that arise in private antitrust litigation in the US, and dispels many European misconceptions of US enforcement procedure, while emphasising the lessons that can be drawn from the American system.
Topics covered include foundations of private enforcement, remedy principles and competition rules, prudential limits on private actions, enforcement pluralism in the European Union system, limits on permissible private plaintiffs, and calculation of damages. The book's theoretical approach is supplemented by a practical consideration of available procedures and remedies.
New to this edition:
Updated to include developments such as the 2001 judgement of the European Court of Justice in Courage v Crehan, changes to the UK Competition Act 1998 and the German national competition law, and the European Commission's adoption of Regulation 1/2003 and 2005 'White Paper' on Private Enforcement.
Expanded jurisdictional coverage to include discussion of private enforcement across many EU Member States, with a special focus on UK and German law.