Prosecuting Serious Human Rights Violations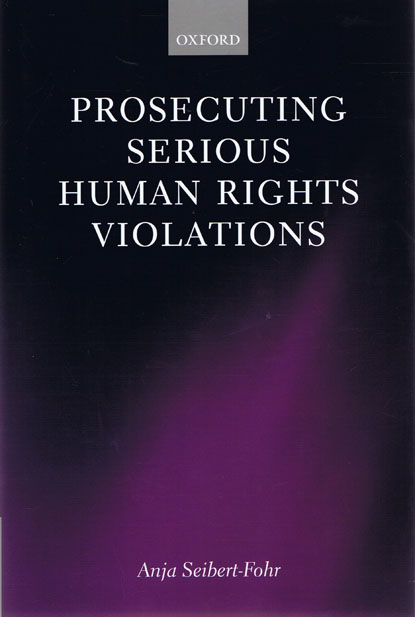 ISBN13: 9780199569328
Published: July 2009
Publisher: Oxford University Press
Country of Publication: UK
Format: Hardback
Price: £96.00

Criminal punishment is increasingly regarded as a necessary element of human rights protection. There is a growing conviction at the international level that those responsible for the most serious crimes should not go unpunished.
Though there is a wealth of legal writing on international criminal law, the question why and to what extent criminal prosecution is a necessary means of human rights protection has hardly been addressed in a comprehensive analysis. This book is the first to examine the duty to prosecute serious human rights violations. It does so by exploring the concepts of impunity and amnesties, and by exposing flaws in criminal proceedings.
With its survey of the relevant human rights instruments and jurisprudence, Prosecuting Serious Human Rights Violations is placed at the interface of international criminal law and international human rights. The book analyses the rapidly growing body of human rights case law, dealing with criminalization, prosecution and punishment of serious human rights violations. It identifies and critically examines the standards for the conduct of criminal proceedings developed by the European and Inter-American Courts of Human Rights and the UN Human Rights Committee, providing a unique tool of reference for scholars and practitioners working in this area of law.
As the analysis reveals shortcomings in the current conceptualization of the prosecution of human rights violations, the author develops a solid theoretical framework for future jurisprudence. By evaluating the relationship between criminal law and the protection of human rights, the book elucidates not only the potential but also the limits of the role human rights law can play in the emerging concept of international criminal justice.
The underlying rationale for prosecuting serious human rights violations is also relevant for post-conflict situations, in which it is often argued that criminal punishment threatens peace and reconciliation. The question how to deal with post-conflict justice under international law is a continuing theme throughout the book.