Principles, Definitions and Model Rules of European Private Law: Draft Common Frame of Reference (DCFR)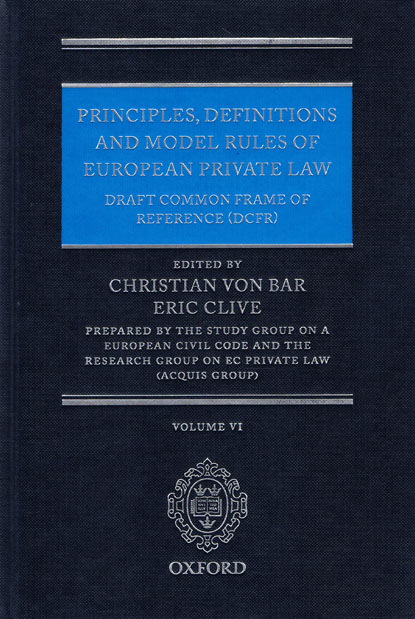 ISBN13: 9780199573752
Published: January 2010
Publisher: Oxford University Press
Country of Publication: UK
Format: Hardback, 6 Volumes
Price: £1142.50

Despatched in 4 to 6 days.
This landmark reference work, in six volumes, marks the culmination of over 20 years' research into the history and potential future of European private law. An international team of researchers have analysed the diverse national traditions of private law to compile a codified set of principles of European law for the law of obligations and core aspects of the law of property - known as the Draft Common Frame of Reference.
This full edition of the reference work comes complete with all the scholarly apparatus needed to interpret the principles. Full commentary is provided on the text of the 'draft common frame of reference', together with references to and comparative analysis of all the national legal materials used as a basis of the text.
The complete work will form a central reference point for all future discussion of the harmonisation of European private law, and the interpretation of EU measures in the field. It also represents a major reference work in its own right, offering the fullest resource available on European private law, invaluable for researchers in comparative law and European legal history.