Cross & Tapper On Evidence 12th ed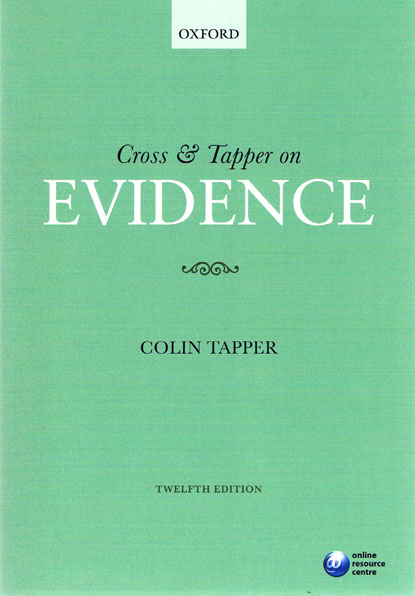 ISBN13: 9780199574148
Published: July 2010
Publisher: Oxford University Press
Country of Publication: UK
Format: Paperback
Price: £45.99

The most authoritative and respected textbook in the field, Cross & Tapper on Evidence has, over successive editions, acquired a justly deserved reputation as a classic of legal literature.
The twelfth edition reflects recent changes and developments in an extremely fast-moving and important subject. It continues to provide thorough coverage and analysis of the ongoing impact of the Criminal Justice Act 2003, with a particular focus in this edition on developments relating to evidence of character. The ways in which the jurisprudence of the European Court of Human Rights continues to penetrate English law are also fully evaluated.
The wide coverage of overseas materials from the principal common law jurisdictions is retained. This comparative material provides an excellent basis for the critical analysis and appraisal of English law. Cross & Tapper remains the most thorough text on the law of evidence available, and is suitable for use by students and practitioners alike.