Evidence: Texts and Materials 2nd ed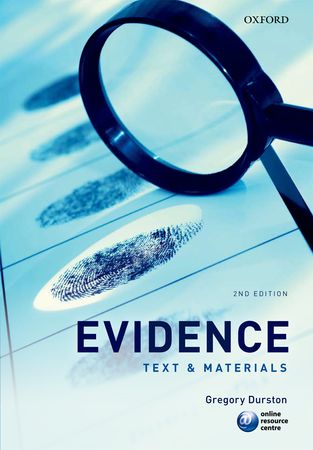 ISBN13: 9780199583607
Published: March 2011
Publisher: Oxford University Press
Country of Publication: UK
Format: Paperback
Price: £38.99

Evidence: Text & Materials provides a 'one-stop', readily accessible resource for students studying the law of evidence. It offers an exceptionally clear and lucid presentation of the law, effectively introducing and guiding students through this challenging and stimulating subject.
Interwoven with the author's incisive explanatory commentary are extracts from key cases, essential articles, and academic books. Exposure to these materials will help the student to develop a truly in-depth undersanding of the key principles of the law of evidence, and a keen awareness of how these principles are applied in modern practice. Particular attention is paid to the major developments and judgments that have transformed this subject in recent years.
The author uses clear language throughout, in order to ensure the explanation of the law is as clear as possible . A range of textual features encouragie the reader to engage with the subject. This exciting and innovative book is the ideal companion for students studying evidence on the LLB, LPC or BPTC.