Crime, Punishment, and Responsibility: The Jurisprudence of Antony Duff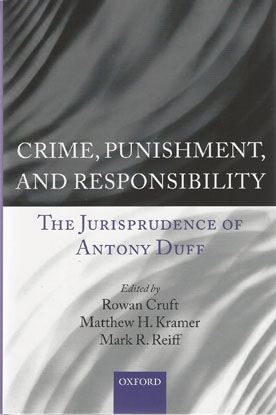 ISBN13: 9780199592814
Published: July 2011
Publisher: Oxford University Press
Country of Publication: UK
Format: Hardback
Price: £83.00

Despatched in 3 to 5 days.
For many years, Antony Duff has been one of the world's foremost philosophers of criminal law. This volume collects essays by leading criminal law theorists to explore the principal themes in his work. In a response to the essays, Duff clarifies and develops his position on central problems in criminal law theory.
Some of the essays concentrate on the topic of criminalization. That is, they examine what forms of conduct (including attempts, offensiveness, and negligence) can aptly qualify as criminal offences, and what principled limits, if any, should be placed on the reach of the criminal law.
Several of the other essays assess the thesis that punishment is justifiable as a form of communication between offenders and their community. Those essays examine the presuppositions (about the nature and function of community, and about the moral structure of atonement) that must be embraced if communication is to be a primary role for punishment.
The remaining essays examine the nature and limits of responsibility in the law, as they engage with philosophical debates over 'moral luck' by investigating the ways in which the law can legitimately hold people responsible for events that were not within their control.
These chapters tie the first and third parts of the book together, as they explore the relationship between the principles that determine a person's responsibility and the principles that determine which types of actions can appropriately be criminalized.
Finally, Duff responds with comments that seek to defend and clarify his views while also acknowledging the correctness of some of the critics' objections.