European Union Design Law: A Practitioner's Guide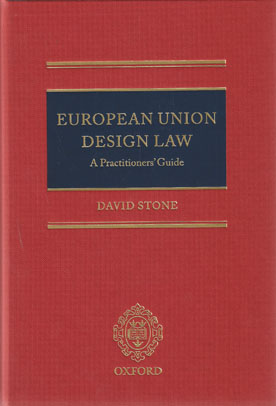 ISBN13: 9780199645176
Published: December 2012
Publisher: Oxford University Press
Country of Publication: UK
Format: Hardback
Price: Out of print

Recent years have seen many fundamental changes in European designs law, including the emergence of the Designs Directive in 1998 and the Designs Regulation in 2001.
These pieces of legislation introduce major changes to the protection of industrial and ornamental designs throughout the European Union. Many issues covered in the legislation remain unlitigated, or guidance has not yet been provided by superior tribunals.
European Union Design Law provides a much-needed guide to the new law and practice. Beginning with a short history of the development of the legislation, Stone moves on to a detailed examination of the interpretation provided by OHIM, the Court of Justice and the General Court, and the Community Design Courts of the EU Member States.
Separate chapters deal with RCD filing and invalidity, unregistered Community designs, the implementation of the Designs Directive by the member states, and the complex jurisdictional web for enforcing pan-EU rights.