Advancing the Human Right to Health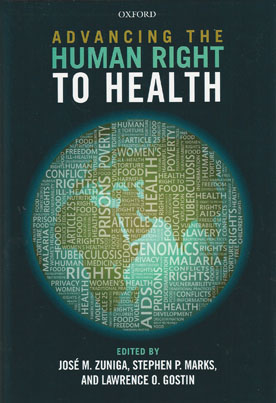 ISBN13: 9780199661619
Published: July 2013
Publisher: Oxford University Press
Country of Publication: UK
Format: Hardback
Price: £66.00

Despatched in 5 to 7 days.
Advancing the Human Right to Health offers a prospective on the global response to one of the greatest moral, legal, and public health challenges of the 21st century - achieving the human right to health as enshrined in the United Nations Declaration of Human Rights (UDHR) and other legal instruments.
Featuring writings by global thought-leaders in the world of health human rights, the book brings clarity to many of the complex clinical, ethical, economic, legal, and socio-cultural questions raised by injury and disease including the deeper determinants of health, such as poverty.
Including examination of the profound inequalities in health, which have resulted in millions of people condemned to unnecessary suffering and hastened deaths, this is much more than a primer on the right to health, it is a thoughtful account of its parameters together with strategies to achieve it, and discussion of why the right is so essential.
Country-specific case studies provide context for analysing the right to health and assessing whether, and to what extent, this right has influenced critical decision-making that makes a difference in peoples' lives. Thematic chapters also look at the specific challenges involved in translating the right to health into action.
Advancing the Human Right to Health highlights the urgency to build upon the progress made in securing the right to health for all, offering a timely reminder that all stakeholders must redouble their efforts to advance the human right to health. Informed by the history of the movement, the practical experience of local and national groups in implementing the right, and considered analysis of the challenges and opportunities in achieving the human right to health, this is a valuable resource for public health practitioners and researchers, legal scholars and policy makers interested in human rights and health.