The EU Law of Competition 3rd ed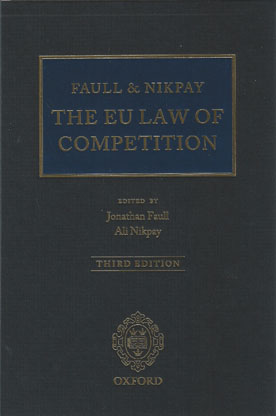 ISBN13: 9780199665099
Published: March 2014
Publisher: Oxford University Press
Country of Publication: UK
Format: Hardback
Price: £312.50

This leading work provides a unique perspective on EU competition law, authored by current and former members of DG Competition, and giving insider knowledge into policies and their application.
Fully updated in this third edition, the work includes new material on industries of growing importance in the competition field including pharmaceuticals and High Tech. A new chapter on pharmaceuticals and health care gives analysis of the pharmaceuticals sector enquiry report, the ECJ judgment in GSK, the Servier investigation, and various mergers. Coverage of the developing High Tech industry is covered in an expanded chapter on Communications.
Other updating includes full coverage of the latest legislation, case law and guidance, giving competition lawyers a comprehensive commentary on recent developments. Discussion of key legislative developments looks at the R&D and Specialisation Block Exemption Regulations, the revised Verticals Block Exemption Regulation, and the Technology Transfer Block Exemption.
Since the last edition of Faull and Nikpay, there has been a wealth of new guidance published which is fully covered in the third edition including Guidance on Hearing Officer procedures, Commission guidance on enforcement priorities for exclusionary conduct, non-horizontal mergers guidelines, Horizontal agreements guidelines, Verticals guidelines, and Commission Guidelines on Technology Transfer. Also, key recent cases covered in the new edition include Telefonica, Microsoft, Intel, Rambus, RWE, and GdF.