Transnational Securities Law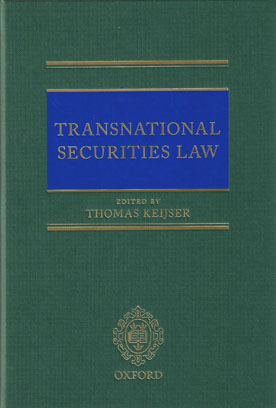 ISBN13: 9780199677863
Published: March 2014
Publisher: Oxford University Press
Country of Publication: UK
Format: Hardback
Price: £190.00

Bringing together a team of globally renowned academics and expert practitioners in the field, this new work presents the first comprehensive analysis of the Geneva and Hague Securities Conventions and related initiatives including those of UNCITRAL and regulatory authorities.
It explores the international harmonization of the law relating to securities, and identifies issues that have not yet been harmonized.
The book explains the current international law on intermediated and non-intermediated securities and suggests solutions to problems where there are gaps in the legislation or where the current framework could be improved.
Taking the Geneva and Hague Securities Conventions as its starting point, the book focuses on private law, including substantive and conflict-of-law issues, as well as looking at recent regulatory developments. Each chapter assesses the current state of the law, and, for issues that have not yet been harmonized, presents possible ways to reach further harmonization and identifies best standard practice solutions.
The first book to provide a comprehensive analysis of securities law at the transnational level; it contributes to the wider discussion on further harmonization, while also providing best-practice solutions to practitioners in relation to non-harmonized issues.