The Procedure of the UN Security Council 4th ed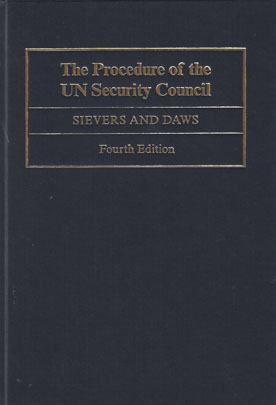 ISBN13: 9780199685295
Published: September 2014
Publisher: Clarendon Press
Country of Publication: UK
Format: Hardback
Price: £100.00

Despatched in 2 to 4 days.
The Procedure of the UN Security Council is the definitive book of its kind and has been widely used by UN practitioners and scholars for nearly 40 years.
This comprehensively revised edition contains over 450 pages of new material documenting the extensive and rapid innovations in the Council's procedures of the past two decades. A one-stop handbook and guide, with meticulous referencing, this book has served diplomats, UN staff and scholars alike in providing unique insight into the inside workings of the world's preeminent body for the maintenance of international peace and security.
Thoroughly grounded in the history and politics of the Council, it brings to life the ways the Council has responded through its working methods to a changing world.
The book explains the Council's role in its wider UN Charter context and examines its relations with other UN organs and with its own subsidiary bodies. This includes the remarkable expansion in UN peacekeeping, peacebuilding and political missions, sanctions and counter-terrorism bodies, and international legal tribunals. It contains detailed analysis of voting and decision-taking by the Council, as well as the place, format, and conduct of meetings.
It also seeks to illuminate the personalities behind the Council's work - ranging from the diplomats who sit on the Council itself to the UN Secretary-General, and those outside the Council affected by its decisions. It concludes with reflections on the improvements that have made to the Council's procedures over many decades, and the scope for further reform.