A.V. Dicey Volume 2: Comparative Constitutionalism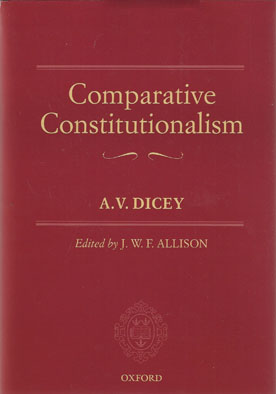 ISBN13: 9780199685813
Published: October 2013
Publisher: Oxford University Press
Country of Publication: UK
Format: Hardback
Price: £91.00

The Oxford Edition of Dicey provides sources with which to reassess the extraordinary authority and lasting influence of Dicey's canonical text.
Volume Two, Comparative Constitutionalism, provides a complement to Dicey's The Law of the Constitution. These largely unpublished comparative constitutional lectures were written for different versions of a comparative constitutional book that Dicey began but did not finish prior to his death in 1922. The lectures were a pioneering venture into comparative constitutionalism and reveal an approach to legal education broader than Dicey is widely understood to have taken.
In Part I, The Comparative Study of the Constitution, topics discussed include constitutionalism in the English Commonwealth, and French, American, and Prussian constitutionalism. Part II, The Comparative Study of Constitutions, includes lectures on representative government, the separation of powers, and basic divisions between kinds of constitution. The volume begins with an editorial introduction examining the implications of these comparative lectures and Dicey's early foray into comparative constitutionalism for his general constitutional thought, and the kinds of response it has elicited.