European Union Law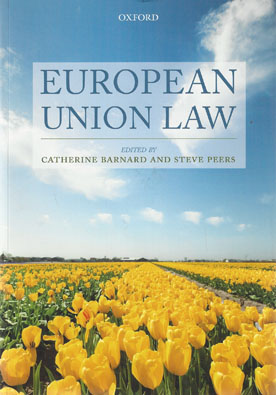 ISBN13: 9780199686117
Published: May 2014
Publisher: Oxford University Press
Country of Publication: UK
Format: Paperback
Price: Out of print

Edited by Catherine Barnard and Steve Peers, this new EU law textbook draws together a range of perspectives from experienced academics, teachers and practitioners to provide a comprehensive introduction to EU law.
Each chapter has been written by an expert in the field to provide you with access to a broad range of ideas while offering a solid foundation in the institutional and substantive law of the EU. Written by experts yet designed for students, every chapter has been reviewed by both students and lecturers to ensure a balance of accessible explanation and critical detail.
Case studies are included throughout the book to enable you to understand the context and implications of EU law, as well as helping to familiarise you with some of the most significant caselaw in the area. Quotes and examples from key EU legislation and academic sources are also included to help develop your understanding of EU law, while further reading suggestions for each chapter act as a springboard for further study and assessment preparation.
The first edited collection for students, this new text provides a fresh and modern guide to EU law and is an ideal entry-point for students new to the subject as well as those looking to develop their understanding of EU law.
Online Resources
European Union Law is accompanied by a comprehensive Online Resource Centre which includes a range of resources to support your studies and revision, including an interactive timeline and map of the EU, downloadable diagrams from the book, video clips, a flashcard glossary, and a searchable table of all Treaty renumbering.
The Online Resource Centre also hosts regular updates and blog posts from the editors, helping you to stay up-to-date on the latest case law and developments in the area.