The Max Planck Encyclopaedia of Public International Law + Index & Tables Volume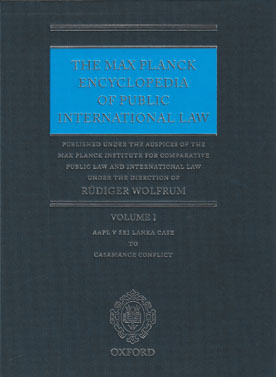 ISBN13: 9780199689651
Published: May 2013
Publisher: Oxford University Press
Country of Publication: UK
Format: Hardcover, 10 volumes + Index
Price: £2837.50

Despatched in 4 to 6 days.
Written by over 800 of the world's leading authorities and edited at the premier research institution for international law, this new edition of the definitive reference work on international law contains over 1,619 articles covering the full breadth of the subject. Articles address the history and theory of international law; all subfields such as international criminal law, environmental law, and economic law; leading cases; and significant treaties, organizations, armed conflicts, and geographical issues.
Each article contains cross-references to related articles, and includes a carefully selected bibliography of the most important writings and primary materials as a guide to further reading.
The Encycopledia can be used by a wide range of readers. Experienced scholars and practitioners will find a wealth of information on areas that they do not already know well as well as in-depth treatments on every aspect of their specialist topics. At the same time articles can be set as readings for students on taught courses. Every article has been thoroughly peer reviewed and all references have been checked over by the editorial staff giving readers total confidence in the quality and accuracy of the content. The Encyclopedia will be a primary resource for all students and scholars of international law; counsel, judges and arbitrators involved in international law cases; and government legal advisers.
New to this edition:
Reflects modern developments with greatly increased coverage of international criminal law, international dispute settlement, trade law and environmental law
More than 700 new topics not covered in the previous edition
Also Available -
Index and Tables, published March 2013.
Edited by Rüdiger Wolfrum, Director, Max-Planck Institute for International and Comparative Public Law, Heidelberg.
Contributors:
Armin von Bogdandy,
Max Planck Institute for Comparative Public Law and International Law, Heidelberg
Edith Brown Weiss,
Georgetown University, Washington DC
Jean-Pierre Cot,
Université Libre de Bruxelles
Yoram Dinstein,
Tel-Aviv University
Thomas M. Franck,
New York University
Jochen Abr. Frowein,
Max Planck Institute for Comparative Public Law and International Law, Heidelberg
Meinhard Hilf,
University of Hamburg
Rahmatullah Khan,
Secretary General of Indian Society of International Law
Martti Koskenniemi,
University of Helsinki
Thomas Läufer,
Director General for Legal Affairs and Legal Adviser, Federal Foreign Office
Thomas Mensah,
Judge of the International Tribunal for the Law of the Sea
Hanspeter Neuhold,
University of Vienna
Francisco Orrego Vicuña,
University of Chile
Michael Reisman,
Yale Law School
Bruno Simma,
Judge of the International Court of Justice
Daniel Thürer,
University of Zurich
Christian Tomuschat,
Humboldt University
Tullio Treves,
Judge of the International Tribunal for the Law of the Sea
Sir Michael Wood,
International Law Commission, and a member of 20 Essex Street Chambers