EU Foreign Investment Law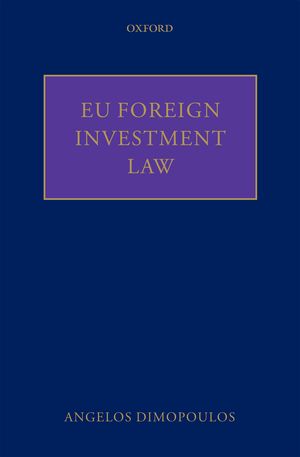 ISBN13: 9780199698608
Published: December 2011
Publisher: Oxford University Press
Country of Publication: UK
Format: Hardback
Price: £102.50

The regulation of foreign investment represents one of the most topical and controversial subjects in European Union law and international investment law.
EU foreign investment law is emerging as a critically important issue, particularly since the introduction of EU competence over foreign direct investment after the Lisbon Treaty and the recent successful challenge of the compatibility of Member States Bilateral Investment Treaties with EU law. Within this framework, the book sets out to identify whether and to what extent the EU has become an international actor in the field of foreign investment.
Exploring the existing legal framework on the scope and exercise of EU competence and its legal effects, it examines the foundations upon which EU investment policy is based and will be based in the future.
The book addresses questions relating to the definition of foreign investment; the scope of EU competences; the exercise of EU powers; the substantive content of existing and future EU International Investment Agreements; and the objectives of EU investment policy and its EU law effects.
From this grounding, the study widens to scrutinize the influence that the EU exerts on international law and regulation of foreign investment. Paying careful attention to the substantive content and orientation of EU International Investment Agreements, the book takes a comparative approach to the content of Bilateral Investment Treaties, as well as to the ramifications of EU foreign investment regulation for international law, especially with regard to the EU's international responsibility.
Taking into account the recent developments in the field, this book provides the first comprehensive treatment of the legal, practical, and political concerns that the creation of an EU common investment policy creates.