Barbarism to Verdict: A History of the Common Law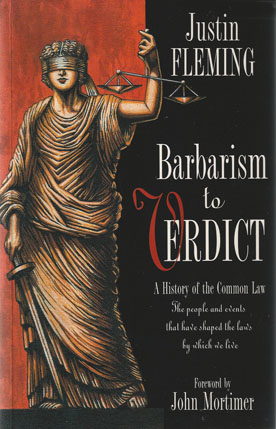 ISBN13: 9780207179297
ISBN: 0207179298
Published: September 1994
Publisher: Angus & Robertson
Country of Publication: UK
Format: Paperback
Price: Out of print

When Mr Bumble, workhouse proprietor in "Oliver Twist", is told that, in the eyes of the law, anything his wife does is under his direction, his answer is emphatic - "The law is an ass, an idiot... the law's a bachelor, and I wish that his eye may be opened by experience".
Since then, it appears that the eyes of the law have been opened by experience, and it has changed accordingly. This book tracks the unpredictable story of the law of "experience" - the law of common custom and principles, designed by people and events and "built" by a long line of judges.
It is a story of people, power and tradition and their overthrow, the story of the subjection of the primitive and barbarous to scrutiny and civilized verdict.;This book is a compendium of fact, anecdote, hearsay and history, and uses theatre, popular songs, paintings, fiction, dialogue and poetry to plead its case.