War Crimes, Genocide, and Justice: A Global History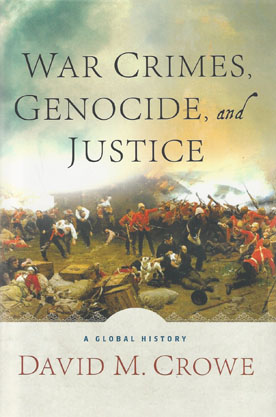 ISBN13: 9780230622241
Published: February 2014
Publisher: Palgrave Macmillan
Country of Publication: UK
Format: Hardback
Price: £28.00

Despatched in 4 to 6 days.
In this sweeping, definitive work, leading human rights scholar David M. Crowe offers an unflinching look at the long and troubled history of genocide and war crimes.
From atrocities in the ancient world to more recent horrors in Nazi Germany, Cambodia, and Rwanda, Crowe reveals not only the disturbing consistency they have shown over time, but also the often heroic efforts that nations and individuals have made to break seemingly intractable patterns of violence and retribution-in particular, the struggle to create a universally accepted body of international humanitarian law.
He traces the emergence of the idea of 'just war,' early laws of war, the first Geneva Conventions, the Hague peace conferences, and the efforts following World Wars I and II to bring to justice those who violated international law.
He also provides incisive accounts of some of the darkest episodes in recent world history, covering violations of human rights law in Afghanistan, Bosnia, Cambodia, Guatemala, the Iran-Iraq war, Korea, Tibet, and many other contexts. With valuable insights into some of the most vexing issues of today-including controversial US efforts to bring alleged terrorists to justice at Guantanamo Bay, and the challenges facing the International Criminal Court-this is an essential work for understanding humankind's long and often troubled history.