Not for the Record: Selected Speeches & Writings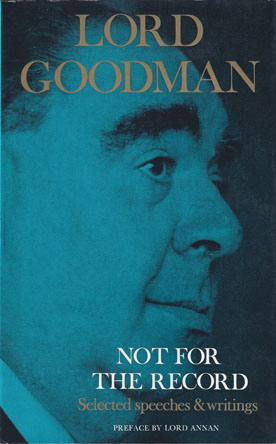 ISBN13: 9780233963464
ISBN: 0233963464
Published: June 1973
Publisher: Andre Deutch
Country of Publication: UK
Format: Hardback
Price: Out of print

Out of Print
Composed with an urbanity and a wit which never disguise their basic seriousness, these articles and speeches by Lord Goodman illustrate his central preoccupation with equity and justice.
The underlying theme is a deep and consistent concern for individual values and personal liberty, whether he is speaking for the small businessman, the employee threatened by takeover, or members of racial minorities. Throughout, his impressive verbal and literary gifts are at the service of people whose ways of life are at risk.
Although he is perhaps best known to the public as a leading negotiator in - some would say the architect of - the recent Rhodesian proposals, his most solid achievement has undoubtedly been in the field of the arts. This book admirably demonstrates his persuasive and constructive views on such matters as censor¬ship, a better remuneration for authors, the so-called increase in pornography, and the deepening of cultural awareness in London and the regions. During his tenure of the Chairmanship of the Arts Council, the arts in Britain have undergone a quiet revolution, and this book goes far to explain why and how.
But despite his expressed belief that the artist is the most important member of society, Lord Goodman's energy and intelligence have led him into many other battles : reform of the House of Lords, fusion of the two branches of the Law and, of course, the Rhodesian negotiations. His arguments are models of objectivity and fair-mindedness, and the reader will find himself responding to them in the same way.