Their Good Names: A Collection of Libel and Slander Cases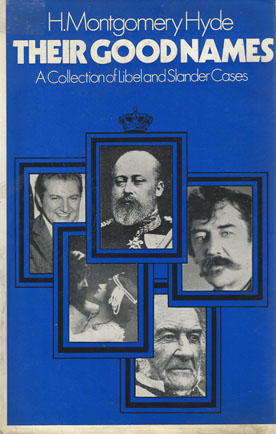 ISBN13: 9780241018033
ISBN: 024101803X
Published: June 1970
Publisher: Hamish Hamilton
Country of Publication: UK
Format: Hardback
Price: Out of print

Out of Print
Harford Montgomery Hyde was born on 14 August 1907 in Belfast. He was educated at Sedbergh School; Queen's University, Belfast (where he gained a first class History degree); then at Magdalen College Oxford (where he gained a second class law degree). He was called to the bar in 1934. From 1935-9 Hyde was librarian and Private Secretary to the 7th Marquess of Londonderry. In 1939 he married Dorothy Mabel Brayshaw Crofts (divorced 1952).
During World War II, Hyde held several positions. He served as an Assistant Censor in Gibraltar (1940) and was commissioned in the intelligence corps and engaged in counter-espionage work in the United States under Sir William Stephenson, Director of British Security Co-ordination in the Western Hemisphere (whose life Hyde published as The Quiet Canadian in 1962). He was also Military Liaison and Security Officer, Bermuda (1940-41); Assistant Passport Control Officer, New York (1941-2); with British Army Staff, USA (1942-4); attached to the Supreme HQ Allied Expeditionary Force (1944) and then to the Allied Commission for Austria (1944-5).
Hyde was the Assistant Editor of the Law Reports (1946-7), then Legal Adviser to the British Lion Film Corporation Ltd (1947-9). From 1950-59 he was a Unionist MP for East Belfast and was the UK Delegate to the Council of Europe Consultative Assembly in Strasbourg (1952-5). From 1958-61 Hyde was an Honorary Colonel of the Intelligence Corps (Territorial Army), Northern Ireland. After losing his parliamentary seat, Hyde was Professor of History and Political Science at the University of the Punjab in Lahore (1959-61).
In 1955 Hyde married his second wife Mary Eleanor Fischer. The marriage was dissolved in 1966 and he married Rosalind Roberts Dimond. He died on August 10 1989.