BPTC Revision: Prepare to Pass Civil Litigation and Evidence 2018-19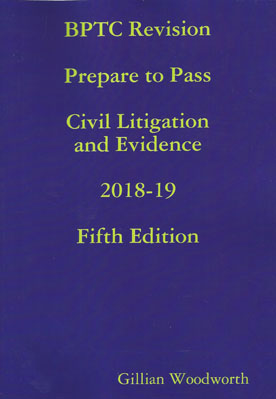 ISBN13: 9780244130299
Published: November 2018
Publisher: Lulu.com
Country of Publication: UK
Format: Paperback, A4
Price: £37.50

This book follows the Civil Litigation process from pre-action through to trial and beyond, in a chronological structure with complete coverage of the BPTC syllabus, no more and no less.
Diagrams and text aid you towards successfully answering the knowledge based MCQs and application based SBAs in the assessment.
The beginning of each chapter sets out which of the examinable elements of the CPR and Statutes it contains, whilst the chapter itself is made up of sub-headings which exactly replicate the syllabus and the examinable material.
At the end of each chapter there is a Most Concise Summary of the contents of the chapter. In addition, a table at the end of each chapter charts your progress through the coverage of the syllabus so that by the end of the final chapter you can be fully confident that you have covered the whole course in preparation for the 2019 assessments.
The author has taught on the LPC/BPTC, writing and marking professional final assessments for over 23 years.