Buckley on the Companies Acts 14th ed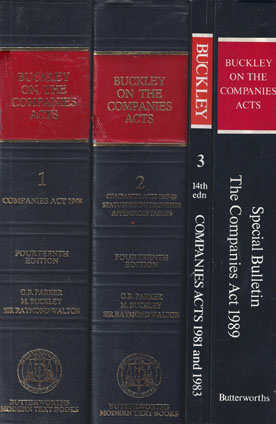 ISBN13: 9780406141040
ISBN: 0406141045
Published: October 1981
Publisher: Butterworth & Co
Country of Publication: UK
Format: Hardback, 2 Vols, Looseleaf & Supplements
Price: Out of print

Out of Print
Buckley on the Companies Acts by the late, the Right Honourable Lord Wrenbury, formerly Lord Justice Buckley
The fourteenth edition of Buckley continues to enjoy the much coveted position as the leading practitioners' reference work on company law. It comprises two hard cover volumes and a looseleaf binder, and is serviced regularly to keep up to date with all the changes in law and practice.
All the law and practice under the Companies Acts up to the Companies Act 1980 is covered by the two bound volumes. Relevant statutes, statutory instruments, court decisions and practice notes and forms are set out, and the editors provide a section by section commentary, fully cross- referenced to show how the different enactments work together. The Companies Act 1948 is set out in the first volume, while the second contains the Companies Acts 1967-1980, statutory instruments, appendices, and tables and index.
The looseleaf binder contains the noter-up to the bound volumes, together with all relevant new material (including the Companies Act 1981). The service issues to Buckley cover amendments made to statutes and statutory instruments published in the bound volumes of the work, with comment on and cross-references to the new material printed in the looseleaf binder.
The Secondhand set for sale includes:-
Volume 1 (1981): Companies Act 1948
Volume 2 (1981): Companies Acts 1967-80, Statutory Instruments, Appendices Tables
Volume 3: The Annotated text of the Companies Act 1981 and the Companies (Beneficial Interests) Act 1983
Looseleaf Service Volume: To Issue 14 December 1988 (Not Shown)
Special Bulletin 1990: The Companies Act 1989