Magnus & Estrin Companies: Law and Practice 5th ed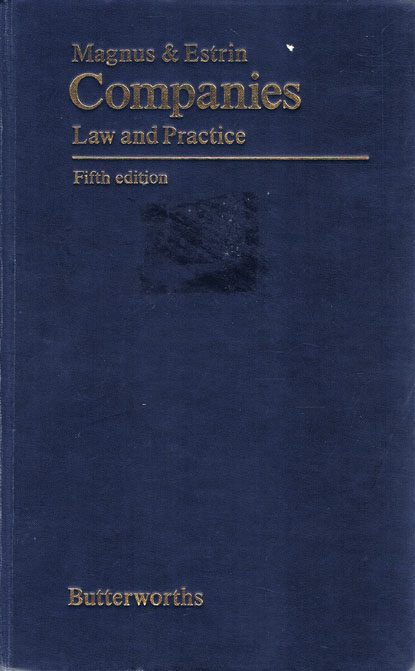 ISBN13: 9780406285256
ISBN: 040628525X
Published: July 1981
Publisher: Butterworth & Co
Country of Publication: UK
Format: Hardback
Price: Out of print

Out of Print
A decade has passed since the appearance of the Fourth Edition and the principal Act on which we are working is still the Companies Act 1948, now 30 years old! Changes were foreshadowed, particularly since the Jenkins Report was published in 1962, and changes there have been.
We have had a partial implementation of Jenkins in the Companies Act 1967. There has been a new Scottish Act, the Companies (Floating Charges and Receivers) (Scotland) Act 1972, replacing the Companies (Floating Charges) (Scotland) Act 1961. Section 9 of the European Communities Act 1972-went a little way towards aligning our Company Law with that of the EEC.
The Insolvency Services (Accounting and Investment) Act 1970 introduced a new method of accounting, while the Insolvency Act 1976 set up a new Insolvency Services Account, as well as introducing several other amendments to Company Law in general, while the Companies Act 1976 has made important changes in that general law, particularly in regard to accounting requirements.
Finally, the Stock Exchange (Completion of Bargains) Act 1976, will, when it is eventually brought into force, facilitate the operation of the "Talisman" system for the transfer of securities on the Stock Exchange. But the rest of Jenkins has still not been fully implemented, and, in the state of flux which faces the future of the company system, it now looks as though it never will be. Ultimately, no doubt, a new consolidated Companies Act will find its way on to the statute book.
Meanwhile, all these piece-meal alterations in Company Law have made it essential for a new edition of this work to be made available, so that practitioners may have, so far as possible, an up-to-date presentation at their disposal. This has been no easy task, and the size to which this work has grown is some indication of the labour that has gone into its revision.
As we did in the previous edition with the 1967 Act, we have endeavoured to show with reasonable clarity the effect of the 1976 Act and other recent legislation on the principal Act and, as before, we hope that the way in which we have dealt with this legislation will assist those who have looked to this book for guidance in the past and those who might be constrained to do so in the future.
The appendices have had an even more thorough overhaul than before, mainly necessitated by the drastic changes that have taken place. In particular, the specimen accounts in Appendix XI have been yet again completely recast in the light of the new provisions of the 1976 Act while Appendices VI and VII have had to be completely recast by reason of the changes introduced by recent Finance Acts, particularly with regard to taxation. EEC Directions on stamp duty have also been dealt with.
The Supplement to the 5th edition was published in 1981
The Main Work was published in July 1978