Under the Wigs. The Memoirs of a Legal King-Maker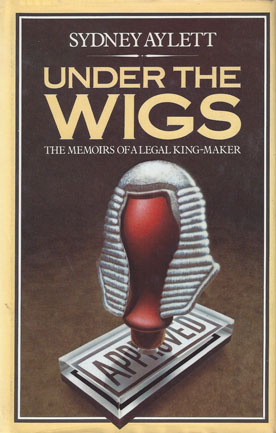 ISBN13: 9780413386908
ISBN: 0413386902
Published: June 1978
Publisher: Eyre Methuen Ltd
Country of Publication: UK
Format: Hardback
Price: Out of print

Out Of Print
At the age of 14, in 1915, Sydney Aylett entered the Temple as a junior barristers' clerk at 7 shillings a week. He served his mistress, the Law, faithfully for the next 58 years, from 1928 as chief clerk to No 4, paper Buildings.
Under the Wigs is his frank and often amusing memoir of this life. As a clerk he came into daily contact with the famous and infamous. His job made him a virtual kingmaker: his was a major decision in the choice of barristers to join his chambers, he directed their careers by attracting and selecting briefs and negotiated the fees.
Under the Wigs provides affectionate portraits, warts and all, of distinguished barristers with whom he worked - Lord Robert Cecil, Theobold Matthew, Kenneth Diplock, Maurice Drake, James Leonard, Quentin Hogg, as well as others like F. E. Smith, Norman Birkett and Patrick Hastings with whom he was in frequent contact - and dramatic accounts of some of the cases which they represented, in the courts and in their chambers.
But Under the Wigs is also the Sydney Aylett's own story, of the man with a passion for the female forearm and, a delight he shared with his father, for the music hall. He recounts the hilarities of his wedding and his enthusiasms as an amateur photographer which resulted in his serving as chief promoter of the charms of Sabrina.