More Uncommon Law: Being More Misleading Cases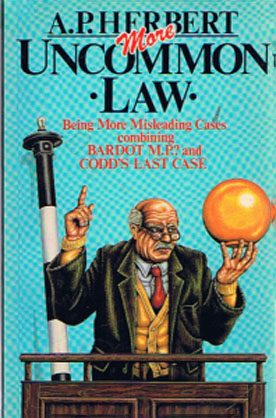 ISBN13: 9780413508805
ISBN: 0413508803
Published: June 1982
Publisher: Methuen & Co. Ltd
Country of Publication: UK
Format: Paperback
Price: Out of print

Out Of Print
After his successes in Uncommon Law Albert Haddock returns to take up a new series of bizarre, peculiar and just plain baffling cases. Faced with such quandaries as 'How Free is a Freeman?', 'How Much Can you Kill a Burglar?', and 'The Law of Sitting', Haddock once again emerges as the hero of the courtroom.
More Uncommon Law sees A P Herbert brilliantly, and hilariously, revealing more of the great absurdities of English law, whilst making some incisive observations about human nature.
Sir Alan Herbert was the author of a host of articles, essays, sketches, novels, criticisms, musicals, plays and poems. A long-standing contributor of Punch, he used his column to campaign for a number of reforms - notably a change in the divorce laws - but always with his characteristic wry humour and a great sense of fun.
By the time of his death in 1971, he had established a large following including such literary greats as H G Wells, Rudyard Kipling, John Galsworthy and Hilaire Belloc.
Reprinted in 1989 with a different cover.