Family Law (Scotland) Act, 1985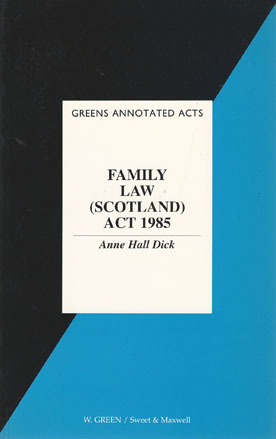 ISBN13: 9780414013742
ISBN: 0414013743
Published: May 2000
Publisher: W. Green
Country of Publication: Scotland
Format: Paperback
Price: Out of print

The Family Law (Scotland) Act 1985 is one of the most important pieces of legislation in many years, particularly in the area of financial provision on divorce. It constructed a new legal framework for the financial and property aspects of family relationships, including the shift away from treating marriage as a relationship of regulated dependency, to one of partnership.
Contained within The Family Law (Scotland) Act 1985 is a full text copy of the Act, supplemented with authoritative section by section commentary by an acknowledged expert in family law - Anne Hall Dick. Extensive notes and explanations of the legislation and provisions are provided to aid ease of understanding.
In addition, three important cases are reproduced as an Appendix to the Act: McConnell v. McConnell (No. 2); Jackson v.Jackson; and R v. R. Particularly useful for practitioners involved in litigation in the area of family law as there are ever increasing numbers of cases arising from issues raised by this Act, Family Law (Scotland) Act 1985 in the Annotated Acts series is an essential guide for family law practitioners and students, providing you with an excellent, portable companion and working tool.