Arlidge and Parry on Fraud 4th ed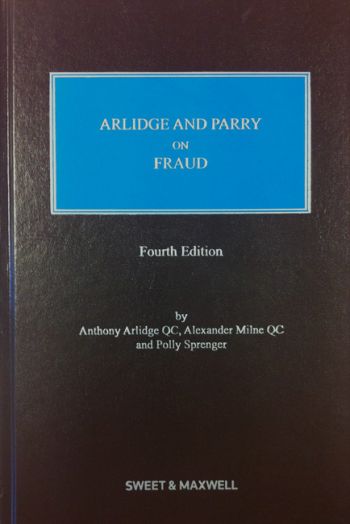 ISBN13: 9780414027411
Published: December 2013
Publisher: Sweet & Maxwell Ltd
Country of Publication: UK
Format: Hardback
Price: Out of print

Written by Anthony Arlidge QC, Alexander Milne QC and Polly Sprenger, the book guides you through the complexities of today's fraud laws.
Providing a complete guide to the law on fraud Arlidge & Parry sets out the basic principles and clarifies key terms. The work discusses and interprets the law offering guidance to complex areas. In addition, it offers advice on presenting a fraud case so that you can be sure you follow the correct procedures and avoid mistakes.
It includes relevant case law to ensure that you are fully up to speed with changes that have occurred and what they mean. What's more, it explains the implications of each offence with examples of legislation and case law enabling you to build the strongest argument possible.
What's covered in the new edition?
The 4th edition brings you completely up to date with the latest principles and concepts of fraud. It includes:
A revised chapter on corruption now includes coverage of bribery
Information on all prosecuting authorities, e.g. SFO, CPS, FCA, BIS and HMRC.
The latest authorities on gambling fraud arising from spot-fixing and match fixing in international sport, e.g. Majeed & Westfield
The Bribery Act, including references to HMG's guidance
New Guidelines on disclosure in criminal proceedings
Acknowledgment of the developments towards new Sentencing Guidelines in 2014