Copinger and Skone James on Copyright 16th ed: 2nd Supplement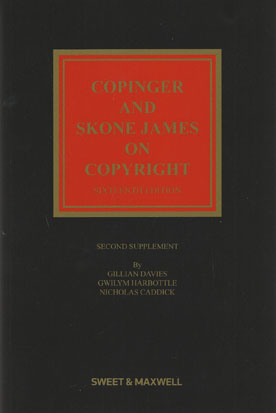 ISBN13: 9780414028869
Published: November 2013
Publisher: Sweet & Maxwell Ltd
Country of Publication: UK
Format: Paperback
Price: Out of print

New in the 2nd Supplement to the 16th Edition:
International Treaties
As well as updating the account of existing international treaties, the supplement contains a full analysis of the WIPO "Marrakesh Treaty on Exceptions for the blind and visually impaired persons". Other potential agreements under discussion at WIPO are also covered.
EU Developments
Provides a complete update on EU copyright legislation and other developments, including:
Directive 2011/77/EU extending the term of protection for performers and producers of phonograms to 70 years.
The Orphan Works Directive (2012/28/EU).
New recommendations on private copying.
The new Customs regulation.
UK Legislation
Provides a full update on UK legislation actual and proposed covering:


Modernisation of copyright exceptions, including new exceptions for private copying, parody and text and data mining and extended exceptions for education, libraries and archives and people with disabilities.
Establishment of an orphan works licensing scheme and extended collective licensing measures.
Implementation of the new Directive on term of protection of performances and phonograms.
Regulation of collecting societies by requiring them to adopt codes of conduct compliant with government criteria.
Development of the Patents County Court.
The latest on the Government's response to the Hargreaves Report
Changes to design law – the proposed narrowing of the definition of a design for UK design right, the proposed repeal of ownership by commissioning, the proposed private purposes defence, the repeal of s.52.
Case law: European and UK
Contains detailed coverage of the vast array of recent EU and national case law on topics such as:
Copyright:


originality (Meltwater, Infopaq, BSA, FAPL and Murphy, Painer, Football Dataco and SAS.
protection of specific types of copyright work including computer programs (SAS and BSA), databases (Football Dataco), films, artistic works (Lucasfilm) and photographs (Painer);
ownership (Coward and Autoclenz) and commissioned works (Trimingham)
licences (VLM Holdings)
assignments (Crosstown Music and PRS v B4U)
the various forms of copyright infringement including reproduction (FAPL, BSA, Painer, TV Catchup and SAS), distribution (UsedSoft, Donner), performance (FAPL, Circul Globus), communication to the public (FAPL, Circul Globus, SCF, ITV Catchup, PPL Ireland, BSA and Airfield) and authorisation (EMI v BSB Football Dataco v Stan James);
permitted acts (including the PRCA reference on temporary copying and FAPL in the Court of Appeal);
fraudulent reception (FAPL, Murphy, Ashton and Vuciterni);
civil and criminal procedure and remedies (including the burgeoning case law on injunctions against service providers, Norwich Pharmacal orders, financial remedies, publicity orders and the Patents County Court)
copyright and human rights (Hainey, Ashby Donald and Neij v Sweden)
the Copyright Tribunal (Meltwater, Archive Media and Cutbot)
Performers' rights:


Consent (Barrett and Henderson)
Designs:


ss.51 and 52 (Flos and Lucasfilms)
the meaning of "shape and configuration" (CLiniSupplies and Magmatic)
exclusions from protection – method of construction (Magmatic), must fit (Satco Plastics), must match (BMW)
infringement – the foreign element (Satco)
the informed user in Community design law (Dyson, Grupo Promer and Samsung)
exclusions in Community design – component parts (ACV Manufacturing and Kwang Yang Motor); spare parts (BMW)
test for infringement (Magmatic)
Jurisdiction – stays of proceedings (Samsung and Starbucks)
Others:


database right – subsistence and infringement (Football Dataco)
competition law (CISAC decision in the General Court, FAPL and Oracle v M-Tech);
circumvention of protection measures – criminal liability (R v Shahzad)
pending references to the Court of Justice (including 12 on the Information Society Directive)
Industry and tax
These chapters have been fully updated by specialists in their respective fields.