The Interpretation of Contracts 5th ed: 2nd Supplement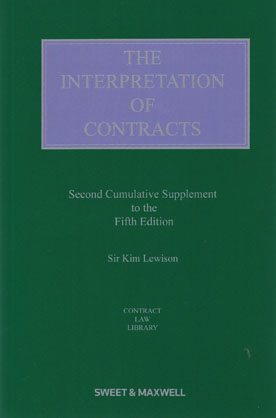 ISBN13: 9780414036765
Published: November 2014
Publisher: Sweet & Maxwell Ltd
Country of Publication: UK
Format: Paperback
Price: Out of print

The Interpretation of Contracts offers expert guidance in preparing, advising on and disputing agreements. This new edition enables you to construct solid arguments based on the principles laid down by case law, so you are always prepared to face any questions of disputed interpretation.
This is the Second Supplement updating the Fifth Edition of The Interpretation of Contracts by Sir Kim Lewison. The work includes fresh commentary and cases covering each chapter of the main work, updating the Fifth Edition to the end of September 2014.
The Second Supplement updates readers on key developments in case law including:
The application of the parol evidence rule: BMIC v Chinnakannan
The scope of an entire agreement clause: Barclays Bank v Unicredit
The relevance of subsequent conduct: HMRC v Secret Hotels
When a word is a legal term of art: Ageas v Kwik-Fit and T & L Sugars v Tate & Lyle
The evolution of the Belize test for implied terms
The contra proferentem principle
The correction of mistakes by construction: Honda Motor v Powell
The approach to interpreting exemption clauses: Capita v RFIB
Conclusive evidence clauses: University of Brighton v Dovehouse
The exercise of contractual discretion
Compliance with conditions attached to options: Siemens v Friends Life
Penalty clauses: Makdessi v Cavvendish Square
With over 100 new case references since the First Supplement, this is a clear and concise update of the essential main work.