The Interpretation of Contracts 4th ed with 1st Supplement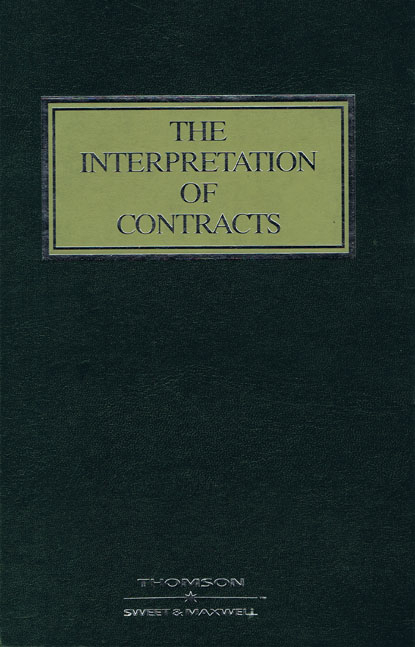 ISBN13: 9780414041295
Published: December 2009
Publisher: Sweet & Maxwell Ltd
Country of Publication: UK
Format: Hardback & Supplement
Price: Out of print

The 4th edition of Lewison provides thorough treatment of one of the most fundamental areas of law - the interpretation of contracts. All those drafting, revising or advising on written agreements will benefit from its detailed discussion of the rules of contract interpretation.
Each chapter highlights important principles, followed by a more detailed description, making it easy to find the information required. The principles are supported by quotations from a number of cases which appear in the body of the text for ease of reference.

The 1st Supplement was published in December 2009
The Main Work was published in December 2007
Well-respected practitioner text, regularly cited in court

Comprehensive examination of the rules of contract interpretation to assist in preparing, advising and reviewing agreements

Extensively revised - including 230 new cases.

Clearly structured for ease of reference

Provides real practical value in advising on the likely outcome of a contractual dispute.
To ensure you have the latest information to hand necessitated by the numerous cases in contract law, the new 1st supplement explains the recent interpretation of contract agreements through detailed analysis of key decisions and development. The content has been fully revised and updated, consolidating new commentary with the text of the 4th edition.
The new 1st supplement updates the mainwork with all the latest developments including:-
Coverage of changes to relevant pieces of legislation
Expert analysis of all the recent case law regarding contractual agreements
Commentary on recent judgements within contract law
Re-defining Lord Hoffman's 5 key principles and a reaffirming of the proposed simplification of the language of contractual agreements
Examination of the adoption of Lord Hoffman's 5 key principles in Scotland, Hong Kong, Singapore and Australia
Coverage of pre-contract agreements through cases such as Chartsbrook Homes v.Persimmon Homes Ltd
Analysis on the importance of the form of words, citing cases such as Pratt v. Aigaian Insurance Company SA
Commentary on cases such as Huntingon v. Imagine Group Holdings Ltd which analyses the intentions of deletions in contracts, and the evolution of exclusion clauses
Extensive commentary and over 500 case references nearly all from decisions within the last 2 years