The Law of Passing-Off: Unfair Competition by Misrepresentation 4th ed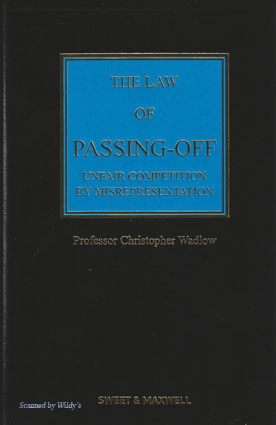 ISBN13: 9780414042322
Published: May 2011
Publisher: Sweet & Maxwell Ltd
Country of Publication: UK
Format: Hardback
Price: £95.00
(Second Hand)

The Law of Passing-Off is the only specialist practitioner's reference work dealing with the common law torts of unfair competition by misrepresentation, namely passing-off and injurious falsehood.
Set out in a clear way that follows your thought processes, this book guides you through the elements that make up this area of law. It provides you with a single reliable source of citable authority to help reinforce or defend any action for trademark infringement using passing-off or misrepresentation.
The text is set out in a clear and logical structure which follows the "Classical Trinity" of goodwill, damage, and misrepresentation. Structured treatment of misrepresentation is provided in three separate chapters covering general principles, actionable misrepresentations, and misrepresentations conveyed by distinctive signs. Integrated treatment of the law of malicious falsehood in a competitive context is included, as well as an introduction and account of the place of passing-off in European and international law.
Chapters on defences under European and national law, including the European Convention on Human Rights, and on remedies and enforcement are provided, as well as comprehensive coverage of case law from the UK and major Commonwealth jurisdictions.