The Reform of Civil Litigation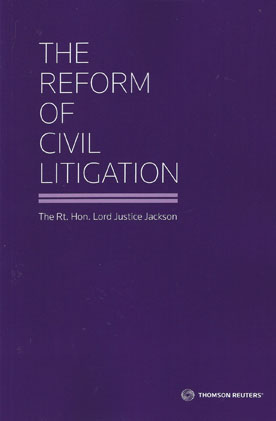 ISBN13: 9780414056862
Published: September 2016
Publisher: Sweet & Maxwell Ltd
Country of Publication: UK
Format: Paperback
Price: £85.00

In this new text, Lord Justice Jackson provides a concise explanation of his civil justice and costs reforms, ensuring practitioners can find clear and practical guidance on how they fit together.
Lord Justice Jackson's reforms had the objective of reducing litigation costs and delay, thereby promoting access to justice. This is the firsthand record of what the reforms aimed to achieve and a review of their success to date, drawing lessons from the process.
Key points covered in the reforms include:-
Abolition of the recoverable 'success fee' which allowed up to a 100% fee uplift, which had to be paid by the unsuccessful party, as well as any after-the-event insurance premium. The reforms meant that solicitors can operate on a contingency fee basis, to be agreed upon with clients as a percentage of the damages awarded; which may be up to 25% in personal injury cases as part of a Damages Based Agreement or the success fee is deducted from damages.
Increasing general damages by 10%.
A new test of proportionality – again designed to curb litigation costs, essentially by permitting judges to disallow fees that are disproportionate to case complexity or value.
Banning referral fees paid by solicitors to obtain personal injury clients.
Introduction of Qualified One-way Costs Shifting ('QOCS').
Introduction of fixed recoverable costs in the fast track and costs management above the fast track.
Promotion of judicial continuity or docketing wherever possible.
Controlling disclosure and e-disclosure more effectively, so that the costs of the exercise are proportionate to the issues in dispute.
Introduction of more robust case management and tougher enforcement of court orders.
Streamlining the processes for assessing costs at the end of a case.
Promotion of ADR as a cost-effective form of dispute resolution.
It is three years since the reforms took effect and, with an ideal vantage point to survey their performance, Lord Justice Jackson not only sets out what the reforms aimed to do, but draws lessons from the process and looks forward to 'where next' for civil justice.
Lord Justice Jackson poses the question of what further reforms are necessary and why. He scrutinises the management of litigation post-Jackson, explaining the new regime of case and costs management: examining the issues and setting out the benefits. The text explains the changes required to funding, looking specifically at conditional fee agreements, after-the-event insurance and damages-based agreements.
This text is intended to be of particular assistance to younger practitioners and students. It will also be an ideal resource for judges, barristers, solicitors and academics, who require an in-depth yet succinct insight into the most prominent and important reforms to civil litigation since the Woolf Reforms.
It cross-refers to the 2nd edition of Costs & Funding following the Civil Justice Reforms: Questions & Answers, and is intended to be complementary to that title.