Philosophy of Law: An Introduction 2nd ed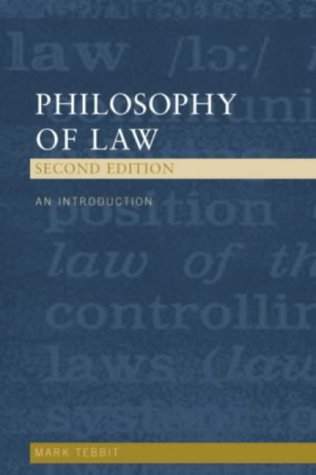 ISBN13: 9780415334419
ISBN: 0415334411
Published: June 2005
Publisher: Routledge
Country of Publication: UK
Format: Paperback
Price: Out of print

Philosophy of Law provides beginning students in philosophy and law with an ideal start to this important topic. Assuming no prior knowledge of philosophy or law, Mark Tebbit eases readers into the most fundamental theories of law and links them to the most prevalent philosophical questions encountered in legal studies.
The book is clearly structured around key issues and themes in the philosophy of law including:
* the meaning of law
* why should we obey the law?
* legal and moral rights
* responsibility and guilt
* insanity and diminished responsibility
* theories of punishment.
Throughout, Philosophy of Law links classical problems in the philosophy of law arising from thinkers such as Hume, Bentham, Mill and Austin to problems discussed by more recent legal theorists such as Hart, Rawls and Dworkin. All the major theories of law, such as positivism, the natural theory of law, realism and contract theory are also clearly discussed with the non-specialist in mind.
Exercises are also included at the end of each chapter, taking students through the most important questions in the philosophy of law.