The Law of Consular Access: A Documentary Guide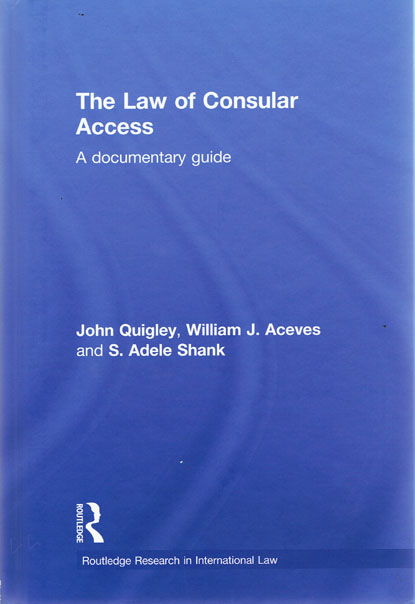 ISBN13: 9780415483278
Published: October 2009
Publisher: Routledge-Cavendish
Country of Publication: UK
Format: Hardbck
Price: £115.00

Over the past decade there has been an explosion of litigation at both international and domestic levels dealing with the issue of consular access for foreign nationals charged with a criminal offence. The issue has exacerbated relations between countries, with the majority of litigation at the international level involving the United States which has adopted a restrictive view of the consular access obligation, over and against the European Union, and Latin American states, which have viewed the obligation more expansively.
This book brings together for the first time all of the relevant documentary sources on the law of consular access. The book includes significant excerpts alongside commentary on the documents in question, allowing readers to draw their own conclusions. As well as containing information on the Vienna Convention on Consular Relations, the book also includes other lesser-known sources, in particular bilateral consular treaties, and multilateral treaties prescribing how states must treat persons it arrests for internationally defined offenses, and key court cases from various jurisdictions, which are not usually readily accessible to lawyers outside those countries.
The book will be a valuable resource for scholars of international law, international human rights and international relations, private and government lawyers, as well as diplomats and consuls.