Health Professionals and Trust: The Cure for Healthcare Law and Policy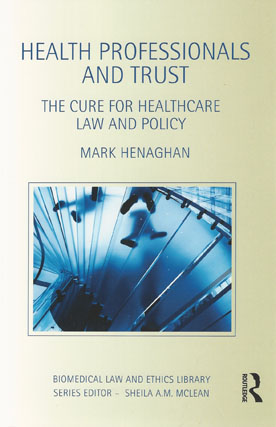 ISBN13: 9780415495820
Published: October 2011
Publisher: Routledge-Cavendish
Country of Publication: UK
Format: Paperback
Price: £34.99

Over the past twenty years there has been a shift in medical law and practise to increasingly distrust the judgement of health professionals. An increasing number of codes of conduct, disciplinary bodies, ethics committee and bureaucratic policies now prescribe how health professional and health researchers should act and relate to their patients.
The result of this Mark Henaghan argues has been to undermine trust and professional judgement in health professionals, while simultaneously failing to trust the patient to make decisions about their care.
This book will look at the issue of health professionals and trust comparatively at a number of countries including the USA, Canada, Australia, New Zealand and the UK. The book will show by historical analysis of legislation, case law, disciplinary proceedings reports, articles in medical and law journals and protocols produced by management teams in hospitals, how the shift from trust to lack of trust has happened.
Drawing comparisons between situations where trust is respected such as in emergency situations, and where it is not for example routine decisions such as obtaining consent for an anaesthetic procedure, the book shows how this erosion of trust has the potential to dehumanise the special nature of the relationship between healthcare professionals and patients. The effect of this is that the practice of health care is turned into a mechanistic enterprise controlled by "management processes" rather than governed by trust and individual care and judgement.
This book will be an invaluable resource for students and scholars of medical law and medical sociology, public policy-makers and a range of associated professionals, from health service managers to medical science and clinical researchers.