Sedition and Violence against the State: Free Speech and Counter-Terrorism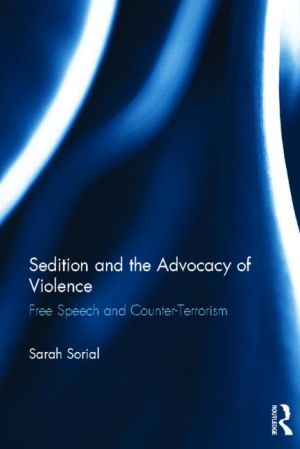 ISBN13: 9780415565158
Published: September 2011
Publisher: Routledge
Country of Publication: UK
Format: Hardback
Price: £90.00

Despatched in 6 to 8 days.
Sedition refers to the uttering or writing of words intended to bring the sovereign state into hatred or contempt, to urge disaffection against the Constitution or democratically elected government, or the attempt to procure change in government by unlawful means. Sedition has traditionally been justified on the grounds that a sovereign government has the power to resist both external and internal aggression, and to protect the citizens of the state from harm. More recently, the law of sedition has been 'modernised' for the counter terrorism context. Modern sedition laws, such as those enacted in Australia, the United Kingdom, the United States and The Council of Europe target types of speech advocating violence against the state, in the form of religious sermons preaching violent jihad or glorifying acts of terrorism, although they have the potential to cover much more than this. For this reason, the modernisation of sedition laws renewed debate about the status of free speech and religious expression in a time of so-called terror.
This book will look at the issue of sedition by providing an explanatorily account of the relation between speech and action using speech act theory as developed by J.L. Austin and applying this to the task of developing a defence of freedom of speech as a qualified right. The book will focus on speech acts advocating violence against the state, in the form of religious sermons preaching violent jihad or glorifying acts of terrorism, given that modern sedition offences are targeted at this type of speech. The book investigates what conditions need to be met for a speech act to produce effects or to initiate a set of consequences, which has legal consequences for how we classify speech acts deemed to be dangerous, or to cause harm. The book goes on to question whether the standard legal argument that the most effective way of dealing with speech advocating violence against the state is to give it free reign in the so-called 'marketplace of ideas;' and to explore the question of whether the advocacy of violence against democracy is justifiable.
This book contributes to the debate over the contested status of freedom of speech that sedition laws give rise to by filling in the explanatory gaps in our current understanding of the value of free speech as a qualified right. It provides arguments that go beyond the traditional parameters of the debate by exploring, in significant detail, the ways in which speech is also conduct, the ways in which it can harm the social interest, and why, for these reasons, sedition might be defensible, but also suggest ways in which their scope could be limited to ensure that such laws are not open to abuse.