Redefining the Market-State Relationship: Responses to the Financial Crisis and the Future of Regulation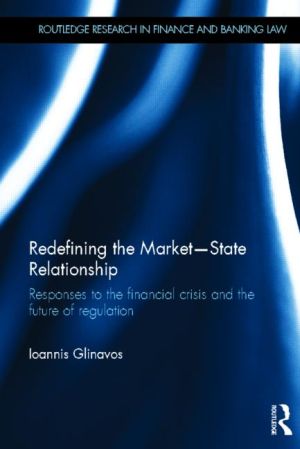 ISBN13: 9780415691284
Published: September 2013
Publisher: Routledge
Country of Publication: UK
Format: Hardback
Price: £100.00

Despatched in 4 to 6 days.
This book offers an interdisciplinary study of the market-state relationship drawing on law, economics, and politics. It addresses the changing nature of this relationship, exploring the place law and regulation occupy in setting limts on market activity. The book argues in favour of greater regulation of markets, taking the view that mandatory rules backed by legal enforcement are the only way to control market behaviour in a way that guarantees the common good.
The financial crisis has brought to global attention a deep problem with modern economic governance. This problem is that financialised capitalism elevates the profit-making motive of markets beyond the reach of democratic politics. As markets become completely dis-embedded from their social and political backgrounds, the state, as the protector of the public good, needs to intervene to forcibly re-embed markets into the rest of the social structure. This realisation has two main consequences. One is that the dichotomy of state and market is still a valid methodological tool in interpreting relations in 21st century capitalism. Another consequence is that de-regulation, the main vehicle for dis-embedding market processes from social controls, needs to be reversed. In summary therefore, the book seeks to demonstrate that not only a larger role for the state is necessary as a way out of the current financial crisis, but also that only a larger role for law can guarantee a reconnection of popular control with economic decision making. This emphasis on the state is justified because, the book argues, the state as an expression of democratic political choices is the only viable route to legitimate decision making on issues of economic governance.