Law, Psychoanalysis, Society: Taking the Unconscious Seriously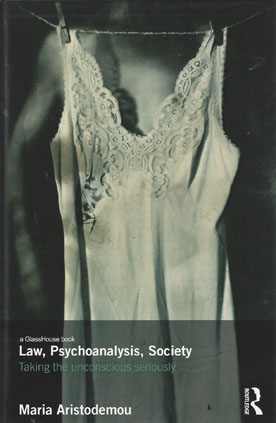 ISBN13: 9780415710213
Published: June 2014
Publisher: Routledge
Country of Publication: UK
Format: Hardback
Price: £88.99

Despatched in 4 to 6 days.
'If God is dead, everything is permitted', says Dostoyevsky's Ivan Karamazov. 'If God is dead, everything is prohibited', responds Lacan. 'I swear to tell the truth, the whole truth, and nothing but the truth' we say in a court of law. 'In a court of law, the truth is precisely what we will not say', says Lacan. 'I think, therefore I am', says Descartes. 'I am where I do not think', responds Lacan.
What are we to make of Lacan's inversions of these famous mottos? And what are the implications for the legal system if we take them seriously? This book takes these puzzles, and the hypothesis of the unconscious seriously and puts the legal subject on the couch. It listens to her monotonous ramblings, excavates and illustrates her unconscious desires and watches the patient start seeing herself otherwise.
The analysis leads her to start questioning her own long-held beliefs and precious identifications: terms like 'truth', 'guilt', 'reason', 'interpretation', reality', 'freedom', 'punishment', 'evidence', 'responsibility', 'ethics', 'human rights', 'morality' acquire new and surprising meanings. By the end of these sessions, the patient is left wondering, along with Freud her analyst, whether 'it is not psychology that deserves the mockery but the procedure of judicial enquiry'.
In its exploration into the incestuous relationship between law and desire, enjoyment and transgression, truth and lies, freedom and subservience, ethics and atheism, this book provides a step-by-step analysis of those central psychoanalytic concepts that problematize fundamental tenets of the legal system.