Legal Histories of the British Empire: Laws, Engagements and Legacies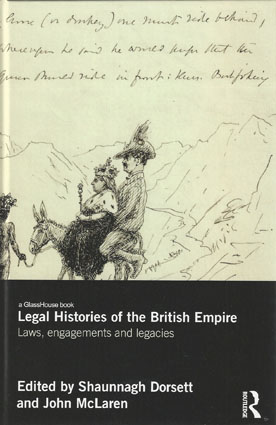 ISBN13: 9780415728928
Published: April 2014
Publisher: Routledge
Country of Publication: UK
Format: Hardback
Price: £115.00

Despatched in 5 to 7 days.
A 'new' approach to legal history in the British Empire is emerging. Rather than the traditional 'single site' approach taken by colonial legal historians, scholars are increasingly engaging in work which is pan-colonial, comparative, or which, if it is focused on a particular colony, seeks to place that site within the broader legal, political, cultural and intellectual frameworks of Empire. It focuses on the comparisons, the mobilities, the continuities and the ruptures of legal engagement across the globe.
This book brings together established senior scholars with exciting newer authors from a range of disciplines, in order to present just such an approach to the law in - and of - Empire. Too often law is still relegated to one of a number of forces or trajectories - for example the movements of military forces and commodities - that circulated and operated in Empire.
This collection seeks, therefore, to investigate law's central place in the British Empire, and the role of its agents in embedding British rule and culture in colonial territories. Showcasing the richness and diversity of writing about law in Empire, it illuminates the continuities and discontinuities of law's effects in Empire and the ways in which law was a crucial element in the manifestation of Empire itself. It will be of considerable interest to legal historians, top historians of Empire, and anyone concerned with Empire's contemporary legacy.