The Object of Copyright: A Conceptual History of Originals and Copies in Literature, Art and Design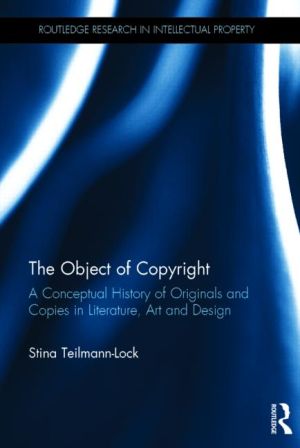 ISBN13: 9780415737203
Published: August 2015
Publisher: Routledge
Country of Publication: UK
Format: Hardback
Price: £95.00

Despatched in 4 to 6 days.
The proposed book will present an interdisciplinary study of the history of copyright law with a focus on the historical development of the object of protection. The book analyses British, French and Danish copyright law in order to examine the Anglo-American copyright system, the Continental authorial rights system and the Scandinavian system which is influenced by both systems. The book explores several ways in which copyright law has changed over time in terms of the object of protection. This includes the increasing number of types of work accorded copyright protection, the introduction of concept of the '(original) work' into most national copyright acts as the general legal term for the object of protection in the early twentieth century, and the broadening of the definition of infringement as a result of defining the object of copyright as an intangible entity.
The first part of the book contains a discussion of how, in early copyright law, printed matter was the object of protectionleading to a particular technological understanding of a 'copy,' namely one that derived from printing. The early metaphysical debates on the nature of intangible property will also be looked into, as will the series of eighteenth century copyright acts introducing new subject matter in British, French and Danish law. The second part of the book discusses the general change in the conceptual framework of copyright law in the nineteenth century in British and Continental law and the introduction of the elastic concept of the 'work' as the object of protection in distinction to 'copy' as its 'mere' material instantiation. The terminological cross-fertilization between the diverse legal traditions and the impact of philosophical-aesthetic discourse on legal language will be reviewed, in particular the term 'reproduction.' While the third part focuses on the particular problems that have emerged in relation to the inclusion of design as protectable by copyright.