Reading the Legal Case: Cross-Currents Between Law and the Humanities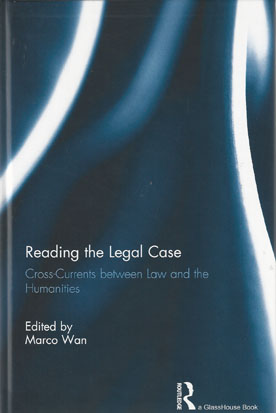 ISBN13: 9780415737289
Published: November 2013
Publisher: Routledge
Country of Publication: UK
Format: Paperback (Hardback in 2012)
Price: £39.99

Reading the Legal Case: Cross-Currents in Law and the Humanities re-examines the seemingly familiar notion of a 'legal case' by exploring the histories, practices, conventions and rhetoric of 'case law'.
The doctrine of stare decisis, whereby courts are bound by precedent cases, underpins legal reasoning in the common law world. At the same time, the legal case is itself a product of institutional and linguistic practices, and raises broader questions about the foundations and boundaries of law.
The idea of the 'case' as an ordered, closed narrative with a determinate outcome is, for example, integral to medical, psychoanalytic, as well as forensic discourses; whilst the notion of the 'strange case' is a popular one in the English fiction of the late nineteenth century. What is at stake in the attempt to categorise or define a situation as a legal case?
Is the notion of binding precedent in 'case law' really distinctive to the common law? And if so, why? What can the concept of a 'case' in other disciplines and discourses tell us about how it operates in law? With contributions from legal philosophers, legal historians, literary critics, and linguists, this book moves beyond the jurisprudential discussion of the nature and authority of the legal case, as it draws on insights from philosophy, m linguistics, narratology, drama, and film.