Moral Rhetoric and the Criminalisation of Squatting: Vunerable Demons?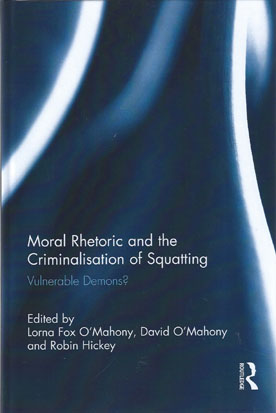 ISBN13: 9780415740616
Published: November 2014
Publisher: Routledge
Country of Publication: UK
Format: Hardback
Price: £115.00

Despatched in 4 to 6 days.
This collection of critical essays considers the criminalisation of squatting from a range of different theoretical, policy and practice perspectives. While the practice of squatting has long been criminalised in some jurisdictions, the last few years have witnessed the emergence of a newly constituted political concern with unlawful occupation of land.
With initiatives to address the 'threat' of squatting sweeping across Europe, the offence of squatting in a residential building was created in England in 2012. This development, which has attracted a large measure of media attention, has been widely regarded as a controversial policy departure, with many commentators, Parliamentarians, and professional organisations arguing that its support is premised on misunderstandings of the current law and a precarious evidence-base concerning the nature and prevalence of 'squatting'.
Moral Rhetoric and the Criminalisation of Squatting explores the significance of measures to criminalise squatting for squatters, owners and communities. The book also interrogates wider themes relating to political philosophy, social policy, criminal justice and the nature of ownership, considering how the assimilation of squatting to a contemporary punitive turn is shaping the political, social, legal and moral landscapes of property, housing and crime.