The State of Copyright: Cultural Creation, State Practices and Intellectual Property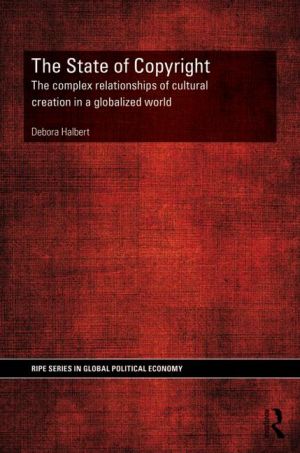 ISBN13: 9780415857383
Published: February 2014
Publisher: Routledge
Country of Publication: UK
Format: Hardback
Price: £115.00

Despatched in 4 to 6 days.
The State of Copyright: Cultural Creation, State Practices and Intellectual Property is an investigation of the relationship between the nation-state, the production of culture and the role copyright plays in managing the flow of culture internationally while tying it to the state.
This book explores the link between states and culture, raises questions of global cultural hybridity, investigates the role of the law in framing the flows of culture, and argues that if we seek to produce another world then understanding the role of intellectual property is essential to that process. It provides a critical assessment of the paths we are taking into this future. The main argument developed is that intellectual property discourses dominating the legal environment today assert a single narrative truth about the value of copyright in promoting progress in the arts and sciences, however, this narrative does not reflect the reality of innovation and artistic work, nor does it reflect the flow of ideas and creative work internationally. This interdisciplinary book intends to help center the role of the state and its efforts to nationalize and protect culture while at the same time globalizing the scope of intellectual property laws. It will be of particular interest for students and scholars of international political economy, law, political science, anthropology, sociology, cultural studies, library sciences, and communication studies. It also will appeal to a growing popular audience that has taken an interest in the issues of copyright.